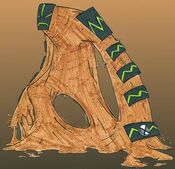 Sandbox is a Graneoid from Silicrone. Sandbox is apparently a "nonfavorite" alien, as Ken expressed distaste for it. From his name, his powers are sand-based. He has the ability to move sand around and turn into it. The sand can be turned into many different shapes and sizes. It is quite like Sandman's power in Spiderman.
Ad blocker interference detected!
Wikia is a free-to-use site that makes money from advertising. We have a modified experience for viewers using ad blockers

Wikia is not accessible if you've made further modifications. Remove the custom ad blocker rule(s) and the page will load as expected.